Mision Completed In 2019 | Four Sets Of Valuable Keywords To Record The Honour Achievement Of Qinglong Company In A Year
Published:2020-05-15Views:
[Time zipped by and the year was soon over; Year of 2019, there's a remarkable year for Qinglong Company.]

With the company's quality of products, meticulous services, and preferential policies, Qinglong has won praises from customers repeatedly, and its brand influence has increased tremendously!

These achievements encourage us to forge ahead and make further progress.

Year of 2019, used the 4 sets of keywords to record down an honour moment achieved by QingLong Company.

Firstly, [Customers recognition, Win-win strategy]
Qinglong has won wide recognition from customers with advanced technology, high-quality of products and meticulous services. The depth of cooperation has been continuously expanded to create a mutually beneficial and win-win situation in development.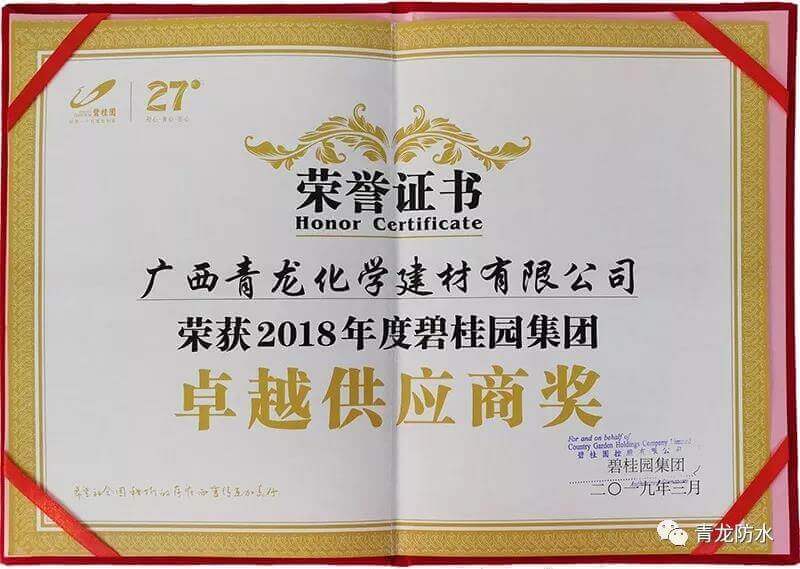 ▲ Country Garden Excellent Supplier
On March, Country Garden Group's 2018 Annual Supplier Conference, Qinglong Company won the Country Garden's 2018 "Excellent Supplier Award" for its excellent product quality and good corporate service system.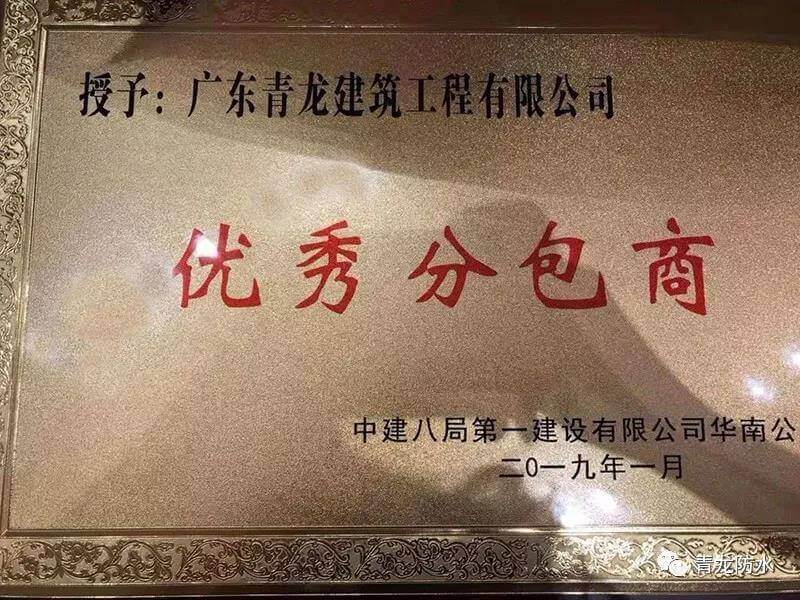 ▲ Excellent Subcontractor of China Construction
Qinglong was awarded the "Excellent Subcontractor" award, which highly demonstrated the company's outstanding technical strength and excellent service capabilities.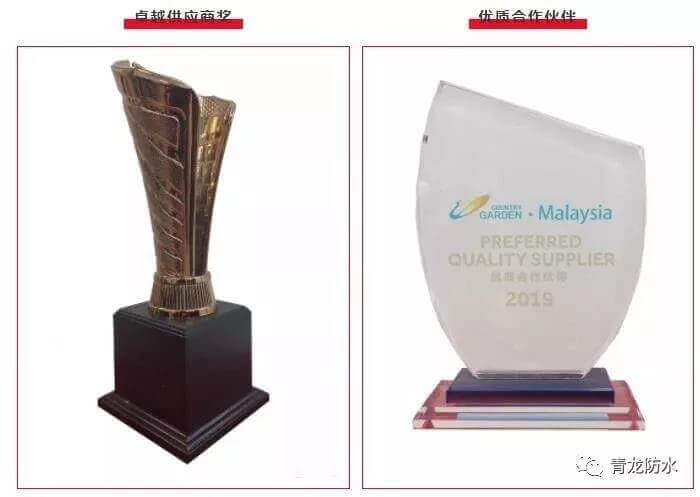 ▲ Malaysia Country Garden's Excellent Supply Award and Preferred Quality Supplier 2019
On 2020, November 12th , Qinglong won the two awards of "Excellent Supply Award" and "Preferred Quality Supplier" again in the Country Garden Group's Malaysia project.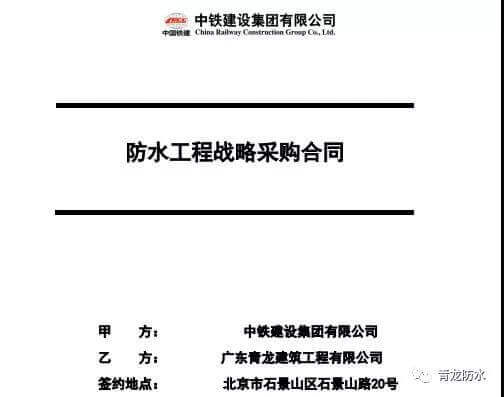 ▲ Country Garden's outstanding supplier and quality partner
China Railway Construction Group Co., Ltd. signed a strategic partnership, and the two sides reached an agreement on the strategic procurement of waterproof materials for China Railway Construction Group. China Railway Construction Group's real estate development projects, PPP projects, and BOT in Central China, South China, Southwest, and Central South. Waterproofing projects such as projects will dynamically purchase Qinglong's related waterproofing materials.


Secondly [Brand Development and through WOM]
Qinglong's with its good reputation is widely spread in the waterproofing industry, and it has also contributed to the progress of the waterproofing industry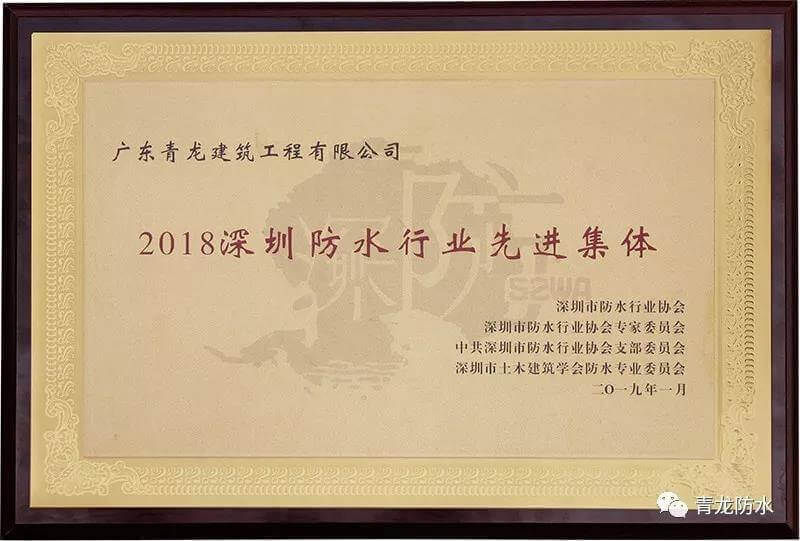 ▲ Shenzhen Waterproof Industry Advanced Collective
On January, Qinglong won the "2018 Shenzhen Waterproof Industry Advanced Collective Award", demonstrating the industry's recognition and recognition of the strength of Qinglong's waterproof team and its contribution to the industry.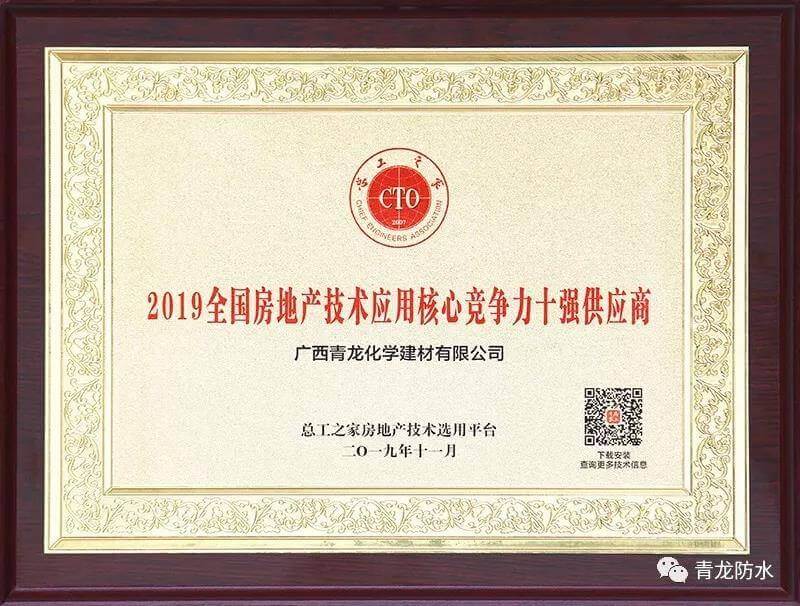 ▲ Top 10 suppliers of core competitiveness in national real estate technology applications
The "Twelfth National Real Estate Industry (CTO) Annual Conference and the Twelfth National Real Estate Industry Chain Technology Fusion Innovation and Development Forum" which closed in Beijing, Qinglong relied on its advantages in technology, quality, and Outstanding product competitiveness, outstanding engineering performance and good market reputation, won the "2019 Top Ten Suppliers of Core Competitiveness in National Real Estate Application Technology" award at this annual meeting.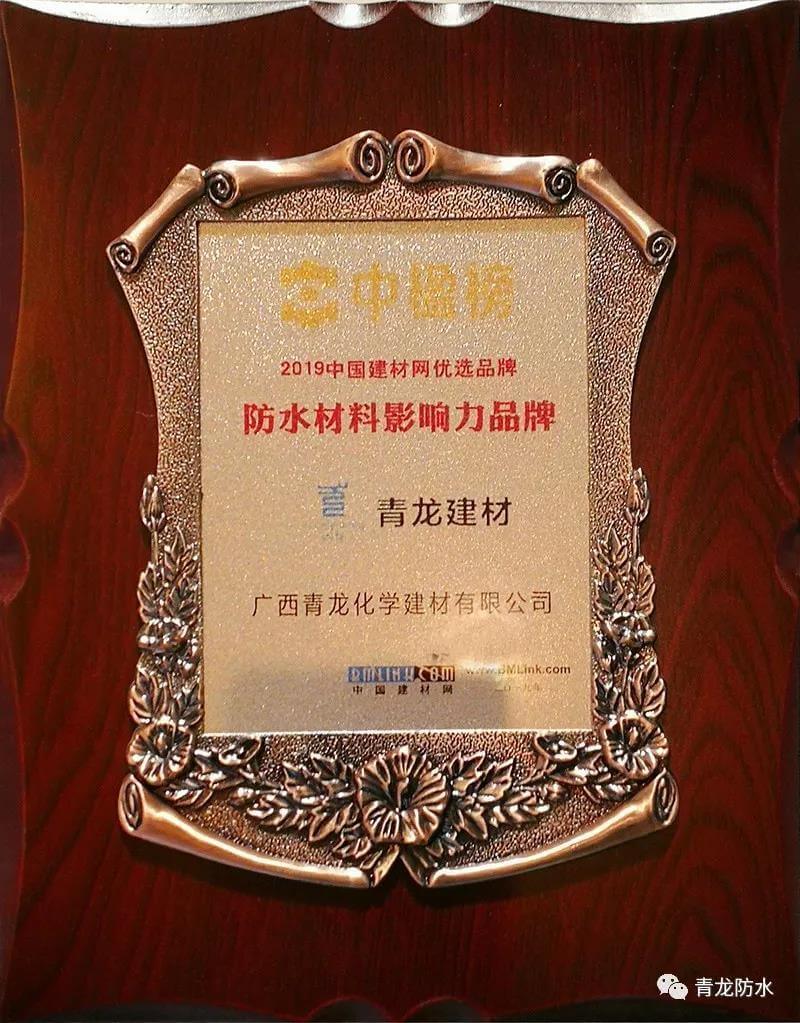 ▲ Waterproof Material Affects Brand Award
On May, 2019, Real Estate Supply Chain Development Summit and the "China Building Materials Network" Best Brand Awards Ceremony, Qinglong Building Materials successfully won the Waterproof Material Impact Brand Award for its brand strength and market influence. This is a long-term affirmation and praise of brand management and market development!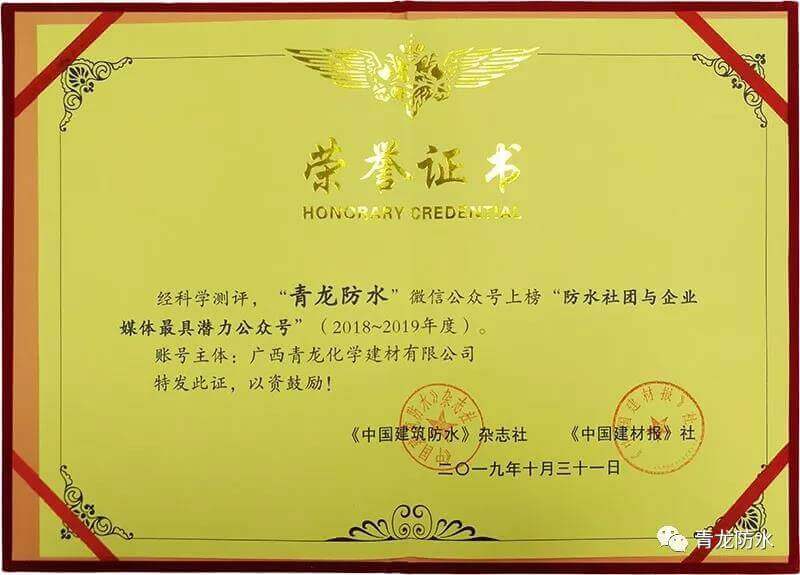 ▲ The greatest potential public account
On November, the company's public account "QINGLONG WATERPROOF" has won the industry's most potential public account award. At the same time, Qinglong's editor also won the "Excellence Editorial Award".


Thirdly, [Pursue Excellence, Fruitful Results]
Qinglong has attached great importance to the role of technology, improved product development and team strength through various channels, and achieved significant results.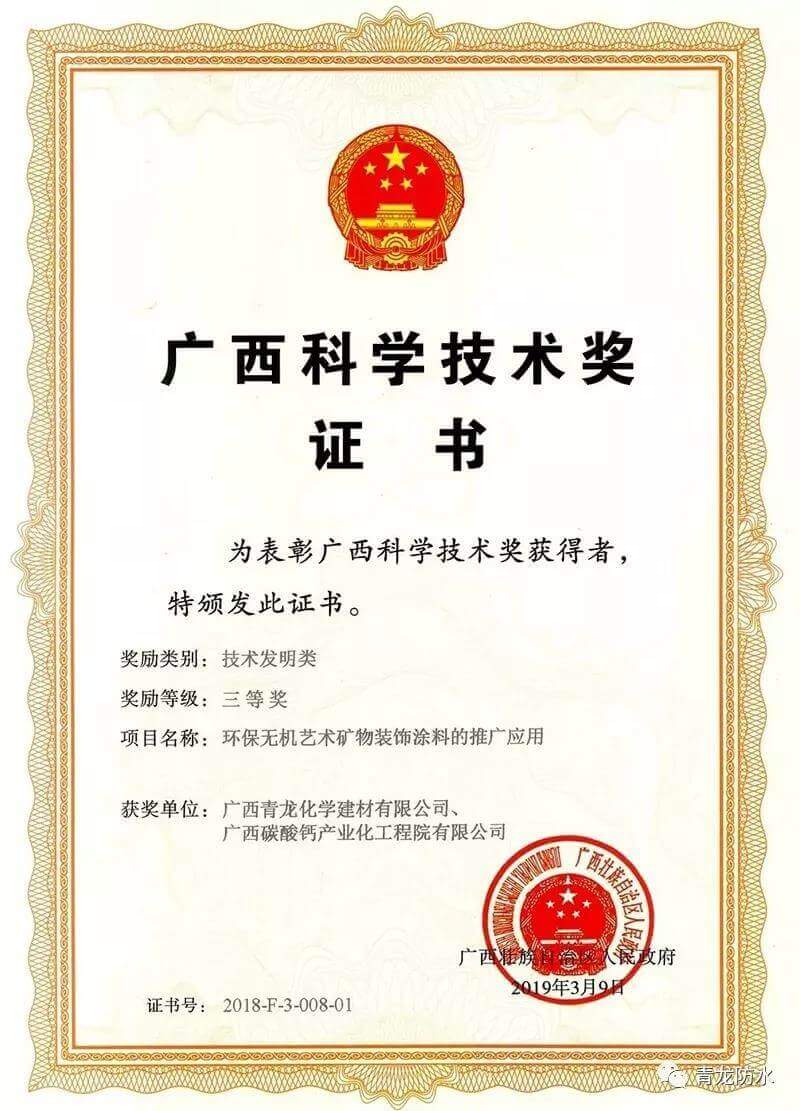 ▲ Prize of Guangxi Science and Technology
On April, the project recommended by Qinglong Company has won the third prize of Guangxi Science and Technology Invention Category at the Guangxi Science and Technology Awards Conference. Qinglong continuously turned its scientific research strength into productivity.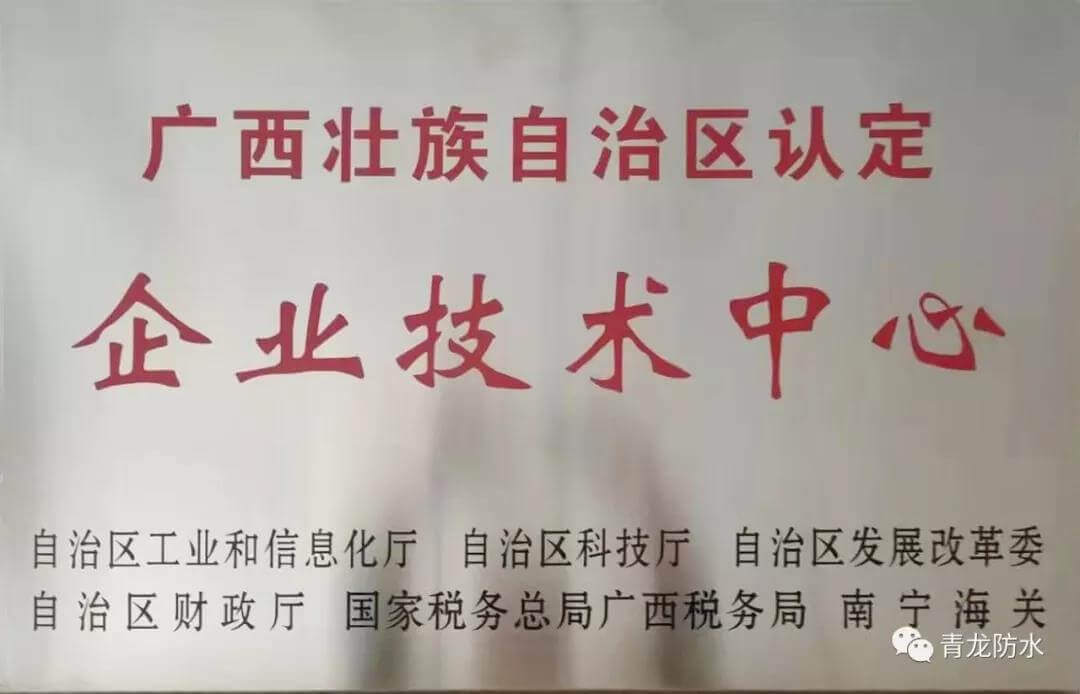 ▲ Guangxi Provincial Enterprise Technology Center
Won the title of "Guangxi Zhuang Autonomous Region Certified Enterprise Technology Center" and awarded a plaque.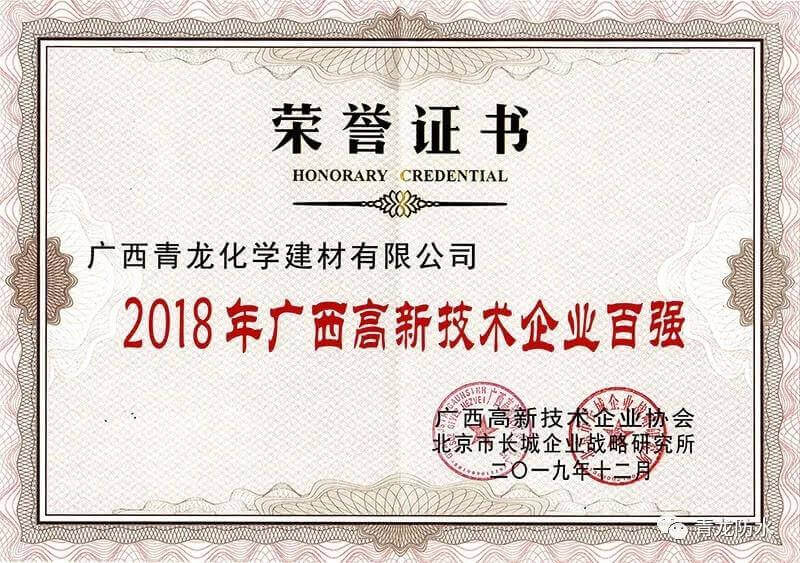 ▲ Top 100 of High-tech Enterprises in Guangxi
On December, Qinglong was awarded the "Top 100 High-tech Enterprises in Guangxi", at the press conference of the top 100 high-tech enterprises in Guangxi, which effectively fulfilled the pioneering role of Qinglong in the waterproof industry, and continued to improve its independent innovation capabilities for enterprises.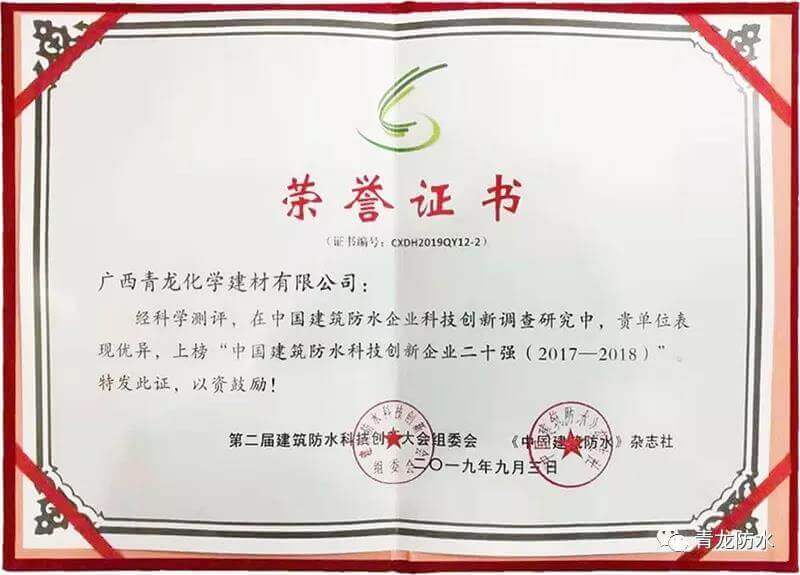 ▲ Top 20 of Chinese architectural waterproof technology innovation companies
On September, Qinglong has won the Top 20 of Chinese Building Waterproof Technology Innovation Enterprises at the 2nd Building Waterproof Technology Innovation Conference.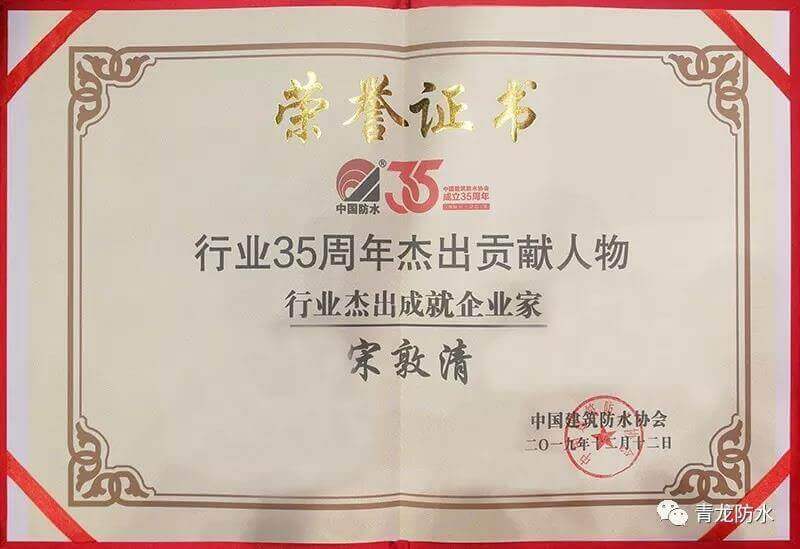 ▲ The Chairman of Qinglong "Mr Song" has won the Excellence Entrepreneurship in the waterproof industry
At the China Building Waterproofing Industry Annual Conference on December, the Chairman of Qinglong company, Mr Song came to the stage to give a excellence speech and at the same time also was awarded the "Outstanding Achievement Entrepreneur in the Waterproofing Industry". Besides that, one of the company's products also won the "2019 National Science and Technology Achievement Promotion Project for the Construction Industry", which reflected that Qinglong won the high affirmation of industry experts and scholars, waterproof peers, and upstream and downstream friends and merchants shows that Qinglong's strength is truly deserved.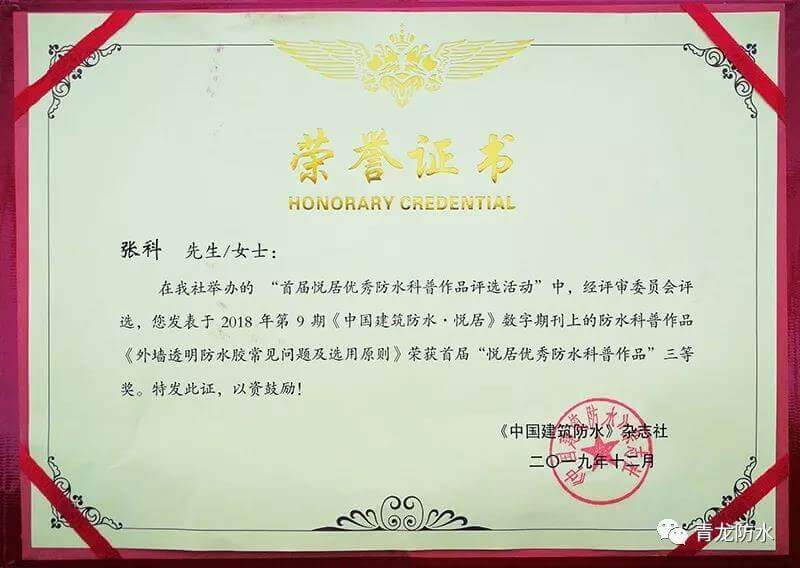 ▲ Third Prize of Waterproof Popular Science Works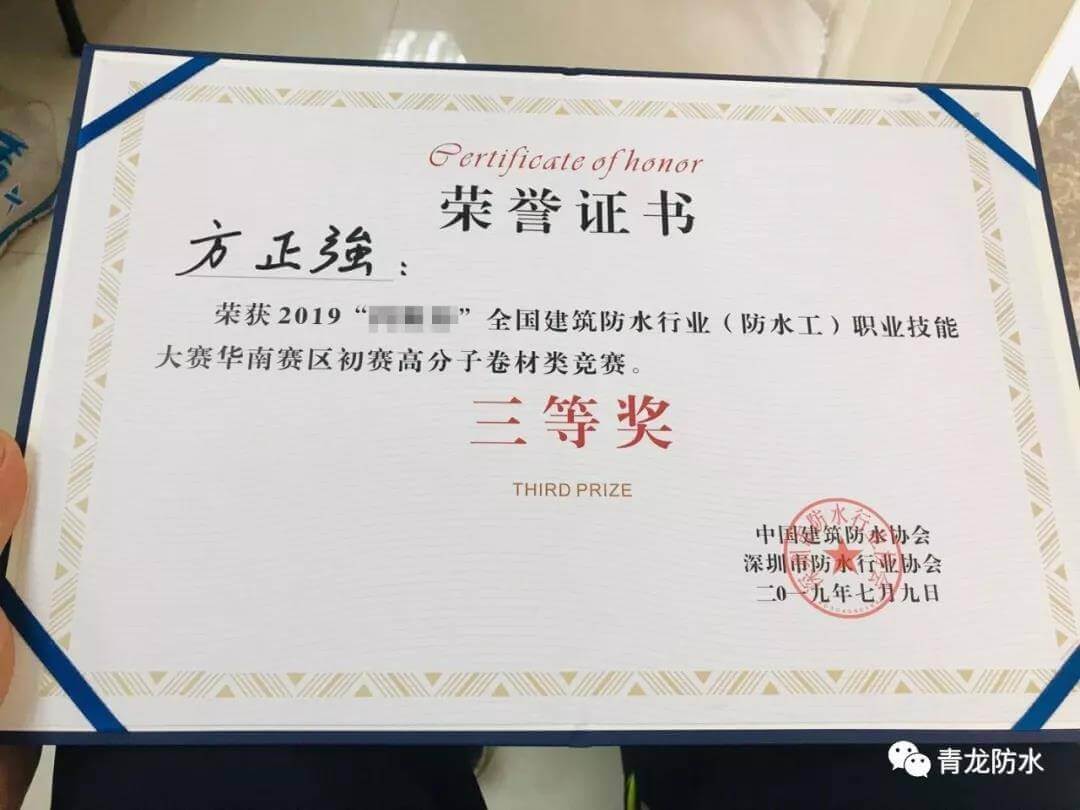 ▲ Third Prize of National Building Waterproof Professional Skills Competition
On July, in the preliminary competition of the National Building Waterproofing Professional Skills Competition (South China Division), Fang Zhengqiang of the Qinglong company's engineering department won the third prize of the National Building Waterproofing Professional Skills Competition.


Fourth [Keep aspiration, Take responsibility]
As a waterproof company that actively assumes social responsibility, Qinglong has always kept its aspiration in mind, assumed social responsibility, paid great attention to public welfare, advocated positive social energy, and actively participated in many social public welfare activities.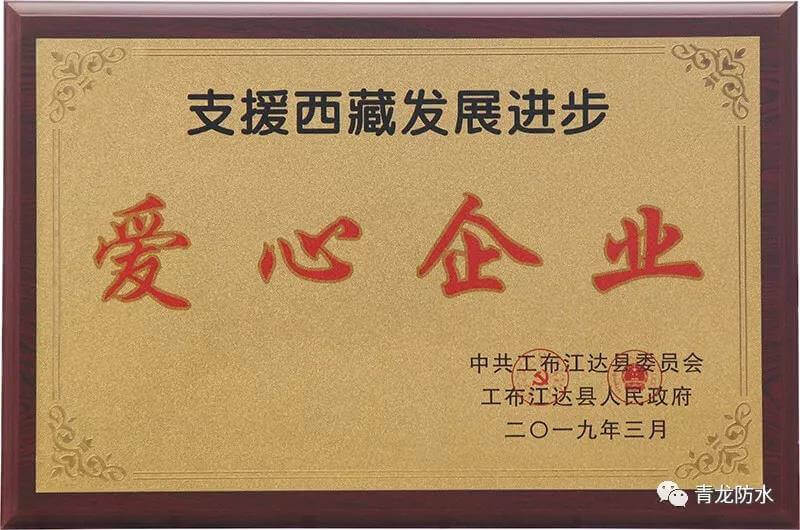 ▲ Caring Enterprise Plaque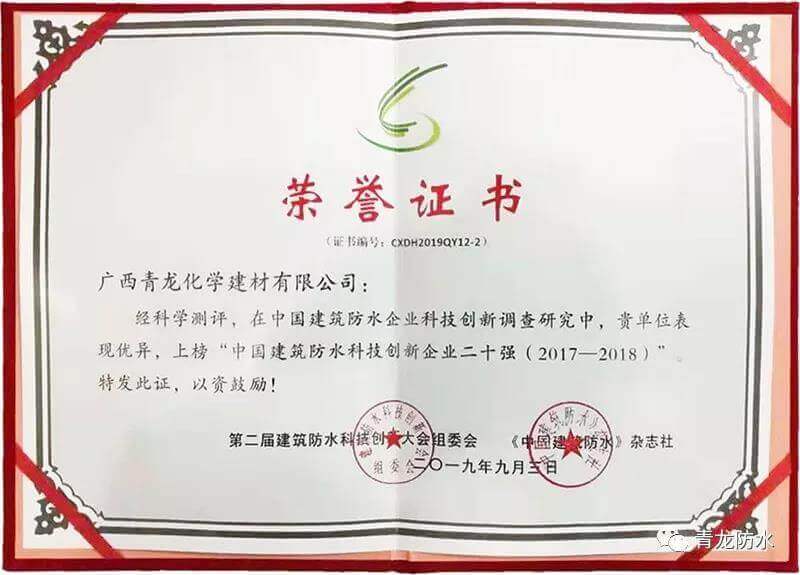 ▲ Care Enterprise Certificate


「Retrospect 2019 and prospect 2020」;
「Qinglong will be more exciting」;
「New Journey, Brilliant, and Glory 」