What Qinglong waterproofing company have did during this Covid-19 moment.
Published:2020-05-05 12:54



Did you still remember what we have learnt Peribahasa from school "bersatu teguh, bercerai roboh", which means "We stand united, and we fall divided". It's a saying that most of the Malaysian should be familiar with.

In keeping with the spirit of togetherness, Qinglong waterproofing company recently sent the medical aid to the hospital following the sudden spike of COVID-19 cases in Malaysia.

On 22th April (Johor Bahru), Qinglong company has done with Facebook charity live which to donate the medical equipment to HSA Johor Bahru. It has obtained most thankful from hospital and Malaysian citizens, even won the high praise and rave review from Malaysia Sin Chew Daily (a Malaysian Mandarin newspaper), Qinglong company try one's best to help others, says Malaysia Sin Chew Daily.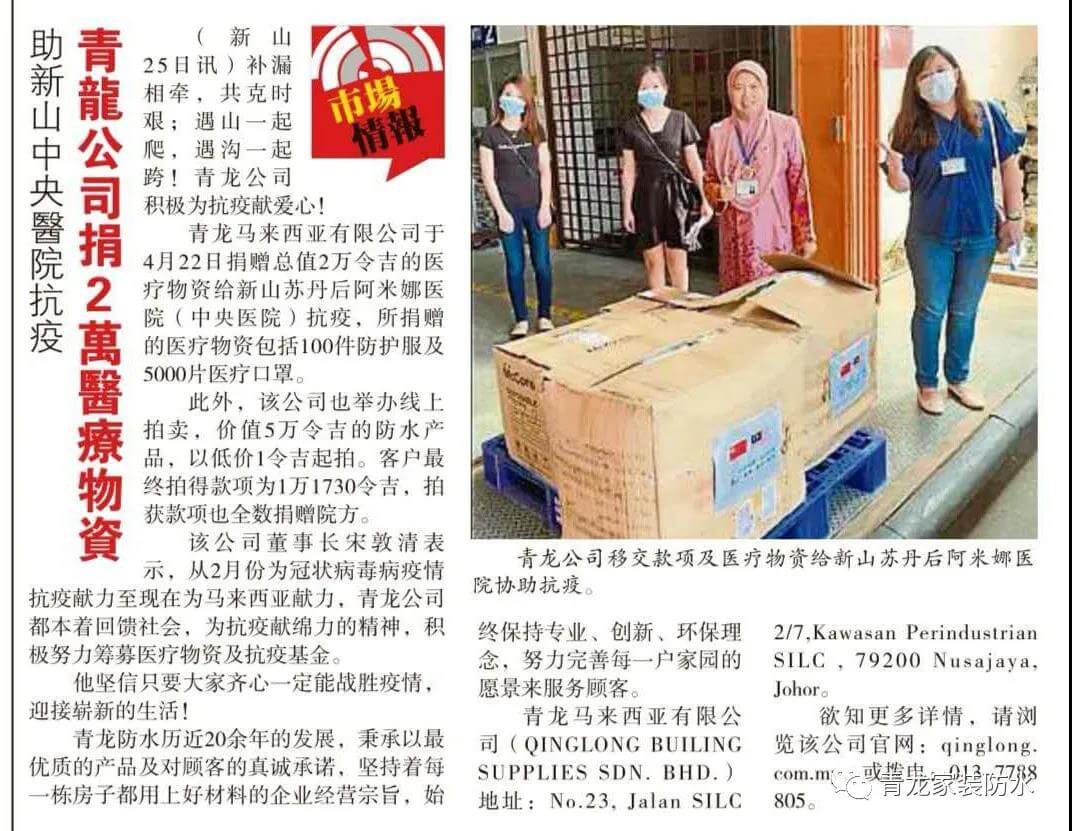 During Qinglong Facebook Live broadcast, company has donated various medical equipment, including the personal protective equipment (PPE), surgical mask and some disinfectant for use by COVID-19 frontlines at the Hospital Sultanah Aminah, Johor Bahru here. Also, Qinglong company has free to give mask to their Facebook page fans which encourage them to wear the mask for protective themselves.

Through the ways of Internet and FB live channel, we can spread some of the product knowledge, social dynamic, and anti-virus knowledge to the public. Besides that, our Qinglong franchiser from Johor Bahru also has joined the China Parent Company's donations and live auctions through the online on Feb 2020, Qinglong also hopes to give back to the society through similar activities, with the action of fighting against the virus, it can lead more enterprises to pass on this positive energy and overcome the virus together. says ambassador of Qinglong company.

Seems like everyone's coming together to beat COVID-19, just follow the Movement Control Order, keep washing your hands and practice social distancing, also please stay at home. Lastly, we would like to thank all our frontline healthcare personnel who are working round-the-clock to flatten the curve and keep Malaysia safe.